Poole Family's Summer 98 Vacation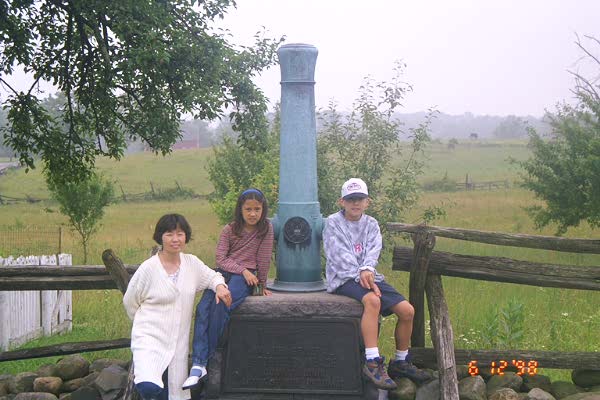 At one of the monuments at Gettysburg.
This is the write up of the summer vacation of the Poole Family, Bill, Mimi, Billy and Meimei (of Scottsdale, AZ) to Maryland, Pennsylvania, DC, NY, NJ, and even VA. (Written by at least 2 members of the family.) Note, there will be links to our family photos and links to web sites of the attractions, click and see what you get! Where available, I insert GPS waypoints! This is not yet complete...I'll work on it and add links as I find time. A few pic's are imbedded, as it is I apologize for the loading time. but the other 48 or so are linked. Oh, by the way, I took about 120 pictures.
Click your browser's "back" button to get back from my pics or web links.
First Day, 5-Jun-98 Friday (written by Billy)
Today is my parents' anniversery. We got a shuttle bus to bring us to the airport around 9:00 AM. We had lunch there. The plane was supposed to leave around 11:00, but the plane was delayed untill after one. Finally the plane came and we got on it. At the airport at Baltimore it we rented a car and drove for hours and hours. There were so many trees there compared to Scottsdale. finally, we got to Philidelphia at our aunt's and uncle's house, which is in Media (N39 54.6000 W075 26.2000) west of Philly.

Second Day, 6-June-98 Saturday. (written by Billy)
In the morning, my Dad and I went ot the NRA (http://www.nra.org/) convention and saw a whole bunch a guns. It was very interesting. Although it got bored sometimes when I saw the same kind of gun over and over again. I liked all the mounted deer heads with the deformed antlers all lined up on the wall. At around five we left and started walking around the city. It was very different from Scottsdale. Some of the roads were made out of brick from a long time ago (cobblestone). There were sometimes tunnels on the sidewalk that lead to subways. All the buildings looked old fasioned.
We walked down to Penn's Landing, There was an Islamic Heritage Festival. Made me (Dad writing here) feel right at home.
Finally we went back to my aunt's and uncle's house.
Third Day, 7-June-98 Sunday (written by Billy)

The next morning we went with my Aunt, Uncle and Cousin Laura to The Franklin Institute, a large science museum. It was kind of fun. I liked the big heart that I you could walk through and see all the parts of the heart. There were lots of hands on things there. Afterwards we went to my Dad's old College, Drexel University, where he attended for about one year in 79-80. A Lot had changed since then.
Fourth Day, 8-June-98 Monday (written by Billy)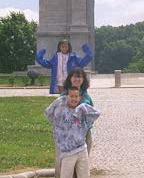 On Monday we went to Valley Forge (N40 06.0255 W075 25.5525) with Uncle Bob and Aunt Junie. We got to see a movie about what Washington's army did there. I bought a toy cannon. The displays were neat. They had lots of flint guns and bayonets there. The cannons were very big. We drove and walked around the site, where George Washington's Army spent a winter during the American War for Independence.
Fifth Day, 9-June-98 Tuesday. (written by Billy)

With Uncle Bob, the next day we went to the Liberty Bell. Afterwards we went to the Seaport Museum, at Penn's Landing. (N39 56.9081 W075 08.3691). It was really neat. Outside there we got to go inside a submarine and aboard a ship from the Spanish American War. I liked that. After that we went to the Philadelphia Mint. That's where they made money. I liked watching the workers from the window. It was really neat! There were whole piles of blank pennies. It was very interesting there. (Armed guards and metal detectors to get IN, not out!)
Sixth Day, 10-June-98 Wednesday (written by Billy)
On wednesday we drove to Aberdeen Proving grounds, a Military Base where they test Army weapons, we visited the museum there, which has a lot of guns inside (They have dozens of cases like this.) and about 100 tanks, etc (Now, if I can just figure out how to get a permit and ammo for THIS!) outside. We found Poole Road near Aberdeen. Later we drove through Amish country. We went to a place called Amish Village. We got a tour of a house designed like a Amish house. They taught us a lot of things.
Seventh Day, 11-June-98 Thursday. (written by Daddy)
On This day, we drove throught New Jersey up to Battery Park and took a ferry to Ellis Island (N40 41.9016 W074 02.4450) and Liberty Island (N40 41.4210 W074 02.8306). We were able to drive the Turnpike right to the park, park there and take the $5 ferry. There is a museum at Ellis Island with exhibits about immigration. (a subject close to the heart of this family) There was a temporary display about the concentration encampment of Americans of Japanese descent. My thoughts were of a concern that this type of hatred might again arise here. But when they come for us gun owners, we will not be nearly as obedient.
Statue of liberty was OK, about a bazillion tourists around the base, an hour wait in line to have your liberty and civil rights infringed (4th amendment....we don't need no stinkin' search warrant) by the armed security guards violating the privacy of everyone wanting to go to the top. We did not go.

Eighth Day, 12-Jun-98, Friday.
We drove from Media to Gettysburg (N39 49.0375 W077 13.9705) in a slight rain. Spent the day touring the Battlefield. The thing is layed out so visitor center and the natural starting point is at the Union Positions, the monuments in the center are depressingly damn-yankee-centric. The drive around the battlefield takes one to the various monuments honoring the brave sons of dixie who fell in their quest for independence. (I'm not really that pro-CSA, "If the south woulda won, we'da had it made" goes the song, but we'da never been a superpower.)
Somehow, the roll of film is out of order, but I'm positive this is a picture of the Bridge where a big battle was fought at gettysburg, the tree in the foreground was a sapling maybe 10' above the bridge in a painting done after the battle.

After a day at Gettysburg, we drove south to the farm (N39 12.0147 W077 22.9348). We stayed with My Aunt Maggie and Uncle Clark in their house on the hill above the farm.
Ninth Day, 13-Jun-98 Saturday.
Got up early and looked out at the Farm.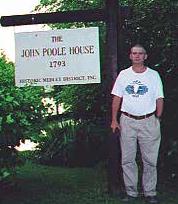 We spent the day at the farm, visiting, looking at stuff, climbing the barns I spent many many many hours in as a kid. We went to watch Cousins Nick, Ryan and Clarke walk their pigs and later play Baseball in Poolesville (N39 07.9939 W077 24.8341) (http://ci.poolesville.md.us/). We saw the John Poole House, that my ancestor, 6 generations back operated as a general store and post office in Poolesville. We drove down to Poole's General Store (N39 04.7794 W077 20.4377 very distant relative) near where Seneca creek (which has its headwaters on the farm property) enters the Potomac river. We also visited a museum in the lockkeeper's house from the early 1800's along the C&O canal just a few yards away. (N39 04.1219 W077 20.3972)

Interesting side note....The Poole Family owned 2 neighboring farms. One of them was sold early in this century, it changed hands a couple of times and became a fancy horse farm. It was later bought by a Saudi Prince and renamed "Al-Mara".
One thing I noticed on this vacation, since I was there as a kid, it looks like the houses have been kept up and improved and the farm infrastructure allowed to decline. Not just on our farm, but on a lot of farms.
Tenth Day 14-Jun-98, Sunday
Mimi and the kids went to church in the morning, in the afternoon, we went to Harpers Ferry WV and back through Antietam Battlefield (N39 28.1774 W077 44.2310), One of the bloodiest battles of the civil war. 5000 died in an hour or so at the "Sunken Road".
Eleventh Day 15-Jun-98, Monday
We went to DC, I think this time we rode the train from Barnesville Station right near the farm into Union Station in DC. We went past the capitol (I felt uncomfortable with all the guards and barracades, like I was in a police state, it was just a coupla weeks before that dingbat did the shooting, lotta good all those guards and barriccades did!) to Smithsonian Natural History museum, then walked to Washington Monument, Lincoln Memorial, Vietnam veterans Memorial "the wall". Past the white house, one of my employee's temporary housing. Walked back to the station in the pouring rain.

Billy's Birthday (he had a party in Pennsylvania and one in Maryland!)

Twelfth Day 16-Jun-98, Tuesday

Back to DC, I think this time we drove to Gaithersburg and took the DC Metro in to DC. The part the kids liked was the ticket machines in the Metro! Went to Smithsonian Air & Space Museum and had dinner at a Chinese restaurant in a house that John Wilkes Booth lived in for a while.

Thirteenth Day, 17-Jun-98, Wednesday

We went down Skyline Drive (N38 51.5064 W078 12.6053 ) to Luray Caverns in VA. (N38 39.8520 W078 28.9786 ) I used to go there as a kid a lot.

Spent more time on the Farm. Cousin's played together in the yard with the huge tree I used to climb as a kid. There are 2 Mimi Pooles! My wife and My cousin!

Fourteenth Day, 18-Jun-98, Thursday

Back to DC on the Metro. DC childrens museum, Smithsonian American History Museum, White house, Arlington Cemetary, at the Tomb of the Unknown soldier, they exhibited some handling practices of the M14 rifle that one does not normally see at a shooting range..

Fifteenth Day, 19-Jun-98, Friday

Last day on the Farm, we went to the NRA museum (National Firearms Museum, http://www.nra.org/museum/museum1.html) at NRA HQ (N38 51.7217 W077 20.1130) in Fairfax, VA. This is a VERY professionally done museum, but kinda small after a week of Smithsonians. We had lunch in the NRA employees cafeteria.

The kids tried to go fishing in the pond on the farm. I actually used to swim in this and caught a few fish there too.

Sixteenth Day, 20-Jun-98, Saturday

I got some photos of some paintings my grandmother painted decades ago.

Said goodbye to relatives, Left the farm.....

Spent the day in Baltimore's Inner Harbor (N39 16.8223 W076 37.3278)

The big ship (Constellation) was not there. I had wanted to see that, but its being renovated. We went to the National Aquarium, and to the top of a large building that has an observation deck at the top. Paddle boat in the harbor.

Back to the airport and home again! To REST!





---
last modified by Bill Poole on 25-Oct-98, ©.
back to Bill's homepage.
E-mail me if you are so inclined: bill@poole.com