Bill Poole's page of Elk Hunting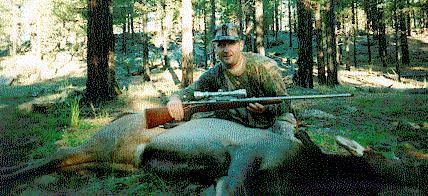 After hunting last season and the first 2 days of this season without success, I finally got one!!

We camped just down 81 from Mahan Park (in the Coconino NF, SE of Flagstaff, AZ, about 6 miles north on FH3 from Clint's Wells). (N34 37.8036 W111 23.3222)
If you have a gps and will hunt 6a, here's my waypoints at: 6a4.txt
With news of an impending Hurricane-"Nora"-induced deluge, I drove up to where I intended to camp in some rain, it drizzled throughout the night, I slept very poorly in the truck.
I got up before dawn and per plan, was waiting at the fence-line where-at archers had seen 75 to 400 (depending upon the speaker) elk just 2 weeks earlier, and where I myself had seen several that day. (6AELK3 N34 37.7409 W111 23.3688)
I heard a shot at 6:10am, but saw no elk.
It drizzled on and off all day, actually it was very nice. I walked at least 6 or 8 miles over the course of 13 hours. (See wpts 6a101 thru 6a118!) All to the south of 81. I saw one bull! I heard shots, got ready and in it came (no open bull season, so I presume someone got his girlfriend). I tweeted on the cow call and the bull STOPPED! and looked at me for several seconds.
Steve Showed up around noon, I had pre-arranged to turn-on our Motorola "Talk-about Plus" radios every hour, and he called in. I had him read me his gps lat/long. he was 3.1 miles away!! weak signal but usable!
Steve saw some elk north of 81, I only saw that one bull.
Got back to camp dead tired, grilled a steak, etc. went to bed, weather had cleared up really nice! lotsa stars, no tent so I laid the sleeping bag on the ground. Jeff showed up at midnight.
Dead tired, we were too tired to get up before dawn so we got a late start, steve left camp a few minutes before 7 and headed north west. I left at 7 and headed NNW, Jeff left at 7:10 and headed N, and up a hill. (J-ELK N34 38.2259 W111 23.4812)
At 7:30, I heard a shot from right about where Jeff shoulda been, turned on the radio and asked if it was him, he made his first true transmission on the new radio "I got an Elk!" his second and third transmissions were "Its Huge!" and "It stinks!".
He said the remainder of the herd of elk ran to the east and that he was up the hill 1/4 to 1/2 mile N of the other folks camp. (NOTE: BRING A COMPASS).
We agreed I'd go way to the east, up the hill circle around and head towards him. (I shoulda gone help him, or rather watch him and learn!)
I circled way, way around, eventually saw some elk, but could not get a shot at a cow elk because of the intervening cattle and trees.
They ran north and I heard the bull bugle, later I heard a shot, I went in that direction, later I heard car horns honking from FH3.
I found some hunters looking for blood drops near 81A. They said the elk ran across the highway into a different hunt unit.
I tried to head back towards Jeff, but got circled around, eventually I got there and helped him carry the pieces down to the truck, which we were able to get maybe 300 yards from the site, down hill.
Jeff skinned, took off the legs and boned out the remainder. 4 legs, 2 bags of meat, head and skin all had to be carried down.
He took it to Southwestern Processing's cold trailer at Clint's Wells. Steve and I hunted the afternoon.
We had elk tenderloin for dinner.
Got up late again, Steve headed a little ways down 81, I had Jeff drive me to the corner of 81C and 81A, about 1.5 miles NE from camp, I figured I'd hunt back to camp. Ran into the same hunters as yesterday, he had (again) missed a "long" shot. He said the circled to the east, so instead of my plan to go west, I headed east, about 300 yards, I heard 6 shots (I seriouly considered radio-ing Jeff to tell him not to worry, not me, my gun doesn't hold that many shots!) As is my habit, I got in position to shoot any elk that escaped that fusilade to run my way. Then, in a wash to my right, I saw a single elk walking. It was 7:20 AM on Sunday, 28-Sep-97. (B-ELK N34 38.8175 W111 22.5590)
I shot her.
She dropped. (broken back)
I called on the radio and ran to the elk.
She didn't die in the time it took me to get my backpack, jacket and outer shirt off and my tag out, so I shot her in the head to prevent further suffering.
Tag & Photo.
Jeff had heard the shots and called on the radio, I told him to come back to where he dropped me off. When he got close, with honking the horn and tooting a police whistle he was guided right in. He scouted around a little and found he could get my truck right up to the elk.
I took off the back legs and hip meat (didn't do near as clean a job as Jeff!)
It looked like she had a day or two old wound in one rear leg. We'll let the butcher judge the meat.
My shot broke the backbone but was a little far back and damaged some (sigh) tenderloin and split the paunch a little.
We ended up with 2 bagged hindquarters and a small bag of meat trimmings, plus the entire front half of the elk in the truck, all my toys up in the rack.
Stopped by camp briefly, then off to Southwestern Processing's cold trailer at Clint's Wells. Steve hunted the afternoon alone.
Grilled the hamburgers, pulled the ivory and packed up Sunday afternoon.
Steve never got one, Dad didn't make it up there yet.
Cooked some more tenderloin for Monday's dinner at home!
---
Notes:

Jeff used my Winchester M70 "Winlite" in .270 Winchester. 150 gr. Kodiak Premium Bonded Bullet with 56.0 gr. WMR. His single shot was on the order of 75 or 100 yds.

I used my Winchester M70 "Stainless Classic Walnut" in .300 Winchester Magnum. Federal 180 gr. Soft Point Factory ammo. My single shot (to drop) was on the order of 75 or 100 yds.

Lessons learned:

Try to get the truck up to the elk, load it up gutted and let the processors skin it.

We donated the skins to the elks club for veterans.

Carry 4 or more game bags, at least 2 knives, razor blades, gloves, LOTS of water, a camera!, several pieces of rope, paper towels.

Be real careful with the shot, lead even a walking elk a little.

.270 is enuf gun.

This kick and report of a .300 Win Mag is barely noticable when there's an elk in the cross hairs.

Razor blades work great for a lot of the cutting, but a longer knife is needed for separating the legs from the pelvis.

Be careful with those knives, I cut my hand real bad!

Take your watch and shirts off before starting. Lay your gear out, knives, bags, water, sharpener, radio, etc, you don't wanna be digging thru the pack with bloody hands.

Blood washes off, so don't worry about it.

Cows are still lactating in September!

GPS is great!

Radios are great! Those "TalkAbouts" worked better than I expected!
---
The Rocky Mountain Elk Foundation,
---
Old stuff:
We got drawn for Cow Elk in zone 6A, south of Flagstaff, from 26-sep thru 1-oct-97.
Dad, Jeff, Steve Cox and I will go as a group!
Jeff says if we don't get at least one between us, we will get negative bonus points!
---
14-Sep Scouting trip.
I drove up to 6A with both kids. The Waypoints are at: 6a3.txt
We drove up thru Payson, up FH3, drove in on 122 a little, didn't see much sign.
Then I drove down 81. We went turkey hunting down near the south end of 81, near tramway park back in april or may, and saw some elk then.
We stopped at Mahan Park. Which is 1.2 miles in. It looked promising.
I drove up 81B to the power line road 81A down to Turkey Draw Tank, to Sams Butte, but could not make it to Deadhorse tank (where a coworker reported many elk).
At Sams Butte, at 2:40 PM, I saw a bear (first one in AZ!) and at 2:47 about 300 yards away, 2 deer.
At numerous locations, Archers reported seeing elk.
Near Turkey Draw Tank
up 81B towards the 'lines.
and other places, too numerous to mention (i.e. the elk were reportedly so numerous, I dare not mention where!)
All in all, this was the most promising trip.
At one point, earlier in the day, I heard a bunch calling, called back and forth to them, saw about 4 or 5 cows, maybe one spike bull.
I identified potential camp spots along 81, just in case I do not find a better spot next weekend!
HEARSAY:
Hunters (with a dead bull in the back of the truck) reported that "Cedar Flats" is a good area!
They recommended going in from I17 via 214, they recommented around mesa tank, Big Hill, Five Mile Pass etc.
other archers reported seeing elk around elk park meadows, between mormon mountain and lake mary.
We'll see...
---
6-7-Sep Scouting trip.
Meimei and I drove up Saturday evening, arriving after dark. We drove around and shined the spotlight.
We camped on the ground, perfectly clear sky!
Drove around and walked around looking for elk and sign all day Sunday, finally drove out with the spotlight again.
The numbers refer to waypoints at: 6a2.txt
We drove up FH3 (the road from Clint's well to lake mary), came to a dirt road about 2 miles n. of Happy Jack, drove down that for a while, saw some deer, no elk. wypts 6a010-013. Jackson Butte area.
We drove in the southern part of Mormon lake briefly. 6a014, 015. Saw nothing.
We drove around Mormon lake, from FH3 turned onto 90. Saw some elk way off in the distance across a field, 6aelk1.
Turned on 240 (90-240) and went west. Saw more elk at 6aelk2.
Picked some side road (9410X) and camped at the southern end of it, saw very little sign around there.
Later drove 132, 133, 240 all the way to Munds Park. Stopped at numerous place, saw very little fresh sign.
From Munds park, south on I-17 to Little Antelop Interchange (waypoint I17-153). Went west along 153. North 153E to Munds cyn. got into Pinyon Juniper (PJ) no sign.
went south from 153 (not 801, next road to the west) There were signs announcing seasonal closure from 15-dec to 1-apr to protect big game winter habitat.
A mile or so S. of 153, I saw 4 cows and a bull. Tweeted on the cow call and the bull bugled.
drove further west on 153, it opened up into open park like area with scattered trees. Started raining so I only walked a little near the road. Red mountains above Sedona were visible.
Drove back, crossed I17 and east on 226.
drove up 226b (eo226b) & 226C, no sign.
drove south on 226E, got about 1.5 miles from I17 (eo226e), heard bugling in that direction.
Pretty disappointing!
Will try down south next week or so.
I talked with some other hunters out scouting, they said the elk are all up on Mormon Mountain.
Other wise the 153 Schnebly Ridge area looked best.
---
23-Aug Scouting trip.
Why am I putting my notes up here? I figure of the 4000 folks drawn for 6A this year, 3998 know more about the zone than I do and 5 have internet access. I'm not doing anything to increase my competition, but if I make a few friends on the 'net or help someone, that's just fine. Plus quite likely the only people to ever look at this are those hunting with me anyway.
Refer to the south half of the Coconino NF map.
We drove up I-17, to the Stoneman lake exit, and headed east a few miles (road 213). We stopped along the road (see the 6a waypoints). We walked south from the road, thick juniper pinyon scrub, then opened up. NO fresh sign tracks or droppings!.
We find a nice valley a few miles further east, NO fresh sign tracks or droppings!.
We stopped at a stock tank pond near the juncture of 229 and 213. NO fresh sign tracks or droppings!.
We drove from the ranger research station at 229 - 229E - 644 along 229E all the way back to 213 and saw, you guessed it, NO fresh sign tracks or droppings!.
(at each place we stopped and walked around a while)
We crossed 213, and drove north on 665 (just west of Stoneman lake). There were a billion archery deer hunters camped along the road, about 1 mile, on the west side, some vehicle closures. at the very end, we walked around, and Steve maybe saw some fresh sign, droppings that were still soft and green on the inside, he did not comment on how they tasted.
Then we drove east on 213 almost to the border of the unit (road FH3). we went SE on 230, then out north on 229, we stopped at one point and shot a doe jackolope (later I'll add a link to my hassenpfeffer recipe!) Again, we saw: NO fresh sign tracks or droppings!.
all in all, pretty disappointing.
The Motorola "Talkabout" Radios worked the little we used them.
I think the elk are elsewhere in the zone. I'll go up there this weekend.
Here are my gps waypoints for 6a! I added to the list after the 23-aug and 7-sep scouting trips, and the successful 26-28 sep hunt.
---
We did not get an elk in 5B-north last year, but here are my gps waypoints if you need them.
---
last modified by Bill Poole on 30-Sep-97, (15-jul-98) &copy.
Back to Bill's Hunting page.
back to Bill's homepage.
mailto: bill@poole.com