Bill Poole's First Deer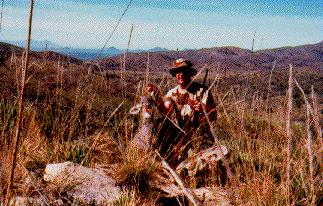 After 13 unsuccesful deer seasons, I finally got one! My first deer. So I figure I deserve some bragging rights, even if it only was a little tiny whitetail forked horn with a 6 rack!
On the recommendation of a friend, My brother, 2 friends and I put in for and received zone 33 "any antlered whitetail" tags for the 10 day season in mid November. We went to an area recommended by that friend, north of the Sahuaro Nat'l Monument, in the Coconino National Forest.
We camped at about 4200 ft elevation. The elevation and whitetail population rises to the south. Terrain changes from rolling hills to rows of ridges running east to west and rising to the south. Mostly open, scattered juniper, lotsa long grass, lotsa Manzanita, on North facing slopes, and lotsa prickly pear, century plants and ocotillo on south facing slopes.
We walked and glassed all day saturday. Saw 2 does. On sunday, I went 3/4 the way up one hill south of camp and glasses the opposite north facing slope.
Altogether I saw 6 or 7 deer. A group of 2 possibly the same 2 I saw Saturday and a group of 4 or 5 (turned out to be 6) in a different part of that hillside. It looked like 1 or 2 bucks in that group, it was hundreds of yards away and tough to see. Just like they say in the articles about Coues deer, I planned a stalk that would take me out of sight and down wind. The deer were still moving when I lost sight of them, so I estimated where they might bed down and on a couple of occasions during the stalk was able to see a few of them. I started at 8 AM. I went about 1.5 miles altogether down wind, parallel to the ridge, then down the canyon, then up the canyon, the over the other side, then up to where the deer should have been, then over the ridge, I walked several hundred yards too far then came back to near where I expected them to be and 2 does jumped from about 20 yards and ran then the other 4 including 2 bucks ran up the hill. The last buck, I shot just as it reached the crest. About 100 yards. It staggered a little and fell. It was about 11AM.
I found it right where it fell and it took about 30 minutes to tag, photo and gut the thing. It took an hour and a half to carry this thing, I'd guess about 60 lbs, back to camp. I wan't quite sure I'd make it! Boy and I outa shape It was only 1/2 mile on the GPS (Deer was at N32 16.4421 W110 34.4202, camp was at N32 16.8921 W110 34.5722), but I had to walk about 1.5 miles to get around the mountain.
I used my Winchester M70 featherweight, 6.5x55 mm, with Winchester Factory 140 gr. SP. The bullet entered a hip, went through the stomach and lungs and longed under a shoulder, broke a leg bone and a rib.
---
last modified by Bill Poole on 15-Jul-98, &copy.
back to Bill's homepage.
back to Bill's hunting page.
bill@poole.com